A good education is often regarded as one of the first stepping stones toward success. Quality education institutions not only elevate a child's potential, encouraging a lifetime of achievements, but also influence the success of the neighborhoods where they reside. By focusing on education, a community guarantees their continued prosperity—and that is exactly what the LAX Coastal region is doing.
The LAX Coastal Chamber of Commerce is known for encouraging a vibrant business climate, but our organization is also dedicated to being a strong advocate for education. To better connect the two industries, we have partnered with the LAX Coastal Education Foundation to present the 4th annual Neighborhood School Expo.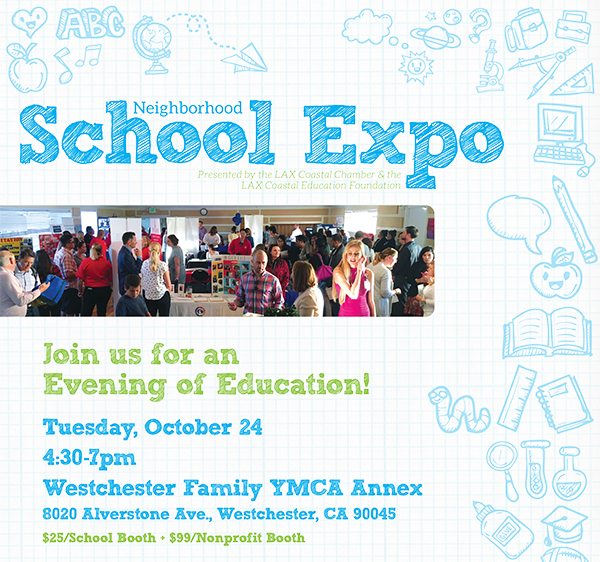 The Neighborhood School Expo is an evening of fun and education, featuring a tabletop expo where local schools and administrators can connect directly to their neighborhood. Parents can ask necessary questions, potential students can learn about educational programs, and residents can discover volunteer opportunities, all on the same evening. With over 300 guests, the Neighborhood School Expo is also a wonderful networking opportunity complete with family fun—such as delicious food samples from Melody Pizza, face painting from Just Kirby, and other family-friendly activities—and all are invited!
This year's Neighborhood School Expo is free to attend and will be hosted on Tuesday, October 24 from 4:30-7pm at the Westchester Family YMCA Annex, located at 8020 Alverstone Avenue in Westchester, California. Currently, participating schools are as follows:
Cowan Avenue Elementary School
Kentwood Elementary School
Loyola Village Elementary Booster Club
Loyola Village Fine & Performing Arts Magnet Elementary School
New Middle School Pathway
Otis College of Art and Design
Bernard High School
Westchester Lutheran Church & School
Westport Heights Elementary School
WISH Academy High School
WISH Charter Middle School
WISH Elementary School
Wright Middle School STEAM Magnet
With more to come!
Any local schools or nonprofit organizations interested in having a booth is encouraged to reach out to the LAX Coastal Chamber of Commerce for more details. We would also like to extend a special thank you to this year's business sponsors: HomeTown News, New York Life, SoCalGas, Sylvan Learning Center, and the Westchester Family YMCA.
---