Director of Membership
Job Description
Start Date: August 1, 2018
Application Deadline: June 17, 2018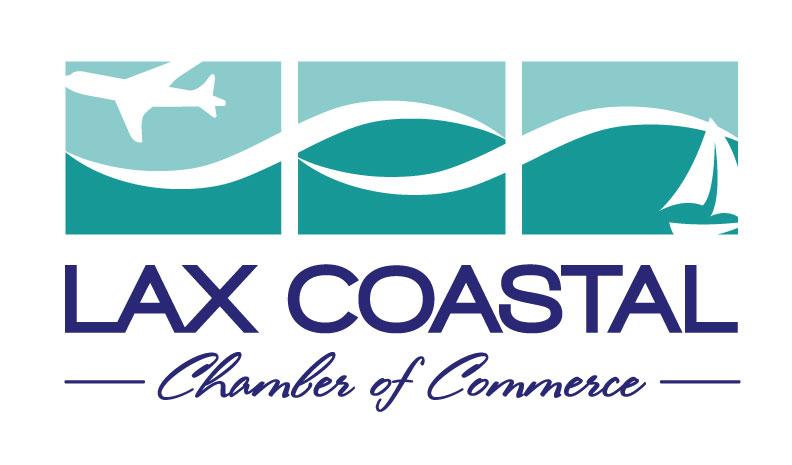 GENERAL JOB DESCRIPTION
Under the direction of the President/CEO the Director of Membership will assist in all aspects of membership including: recruiting, retention and collection. This individual's duties will also include: sponsorship outreach, advertising sales and management.
The Director of Membership must possess excellent verbal and written skills. In this role, the Director of Membership will prepare weekly sales reports and work with the Chamber President/CEO and the Vice-Chairman of Membership to strategize an effective targeted marketing plan.
The Director of Membership will positively and honestly represent the products, services, features and benefits of the LAX Coastal Chamber of Commerce. They will provide exceptional service to the membership of the organization. The Director of Membership will implement the policies, procedures and standards established by the Board of Directors of the LAX Coastal Chamber of Commerce.
JOB RESPONSIBILITIES
Membership acquisition and retention
Supervise and manage membership team
Budgeting and fiscal management of department
Advertising sales for website, email and LAX Coastal Magazine
Sponsorship recruitment and solicitation
Create and implement corporate membership plan for recruitment and retention
Public speaking at Chamber events
Assist with operations of the organization
Strategize and create a target marketing plan for membership recruitment/retention
Prospecting and qualifying new leads
Field and telephone presentations to recruit/retain members
Collections on all past due account
Create weekly/monthly membership reports
Maintain and manage accurate database
Analyze and track membership statistics
Participate in Chamber activities and events
Coordinate potential member/guest participation at all events
Facilitate, coordinate and organize semi-annual membership orientation
Create membership marketing materials and email distributions
Attend monthly board meetings and be prepared to give membership report
Participation in Industry Groups, Membership/Networking and Business Development Committees
Answer phones and schedule appointments
Other duties as assigned
COMPETENCY
To perform the job successfully, an individual should demonstrate the following competencies:
Oral Communication: Speaks clearly and concisely. Responds well to questions.
Written Communication: Writes clearly and concisely, able interpret written information.
Quality: Demonstrates accuracy and thoroughness. Reviews work to ensure quality.
Cost Consciousness: Ensures budgetary guidelines are followed and expenses controlled.
Problem Solving: Takes initiative and seeks input from others when working on problem solving.
Attendance/Punctuality: Arrives at meetings/appointments promptly. When absent, ensures responsibilities are handled.
Dependability: Takes direction well and follows instruction. Maintains commitments.
Teamwork: Supports staff/volunteers w/positive approach and assists others whenever necessary.
Customer Service: Responds in a timely manner and handles interactions w/professionalism. Demonstrates a sincere willingness to be of service to others and is a good listener.
Interpersonal Skills: Demonstrates respect, consideration and focuses on resolving issues. Keeps emotions under control, remains objective.
Diversity: Shows respect/sensitivity for all differences. Focuses on value of diversity and inclusivity.
Ethics: Inspires trust and confidence; works with integrity. Upholds organizational values.
Motivation: Takes initiative and perseveres when situations are difficult.
Planning/Organizing: Effectively makes use of time. System of prioritization and planning.
Multi-Tasking: Is able to oversee multiple activities in our ever-changing environment.
MEMBERSHIP DEVELOPMENT
New Members
The Chamber's Board of Directors has established a financial goal for membership each month and an annual new member goal. The job of the Director of Membership is to obtain a minimum of $4000 and/or 10 members/month.
Renewing Members
The Chamber has a goal of retaining 85 percent, or more, of its members. Members are given a 120-day grace period in which to pay their dues. After 120 days, members no longer receive the benefits of membership and must re-join. The Director of Membership will work with the membership team to contact members that are delinquent in their membership renewal.
Compensation
The Director of Membership will receive base salary of between $45,000-$60,000/ year plus commission. Benefits include health, dental, vision and mileage reimbursement ($.56/mile). Employees will be eligible for the Chamber's health insurance program(s) after completing ninety (90) consecutive days of full time employment.
Commission Structure
New Member Dollars/Month Commission Percentage
Up to $4,000 (new sales) 10%
$4,001 – $5,000(new sales) 12%
$5,001 and up 15%
*First year automatic renewal 5%
*Second year automatic renewal 3%
Membership Retention
Renewal past 90 days 5%
Renewal past 120 days 10%
Advertising 15%
Hours
The Director of Membership is a full-time exempt position (40 hours per week). A worker must work 40 hours per week and be present on a daily basis during "core hours." Hours will be adjusted to accommodate special events. Some early morning, evening and limited weekend work will be required.
---
TO APPLY
Please submit all resumes to info@laxcoastal.com. The job positing will close on June 17, 2018. Please include cover letter in body of the email.
All your information will be kept confidential according to EEO guidelines. Must have a legal right to work in the United States. While we appreciate every applicant's interest, only those under consideration will be contacted. We regret that phone calls will not be accepted.