The LAX Coastal Chamber board room is alive with conversation. Professionals from all walks of life and industries are chatting excitedly as they sip their morning coffee (after making sure that it is indeed NOT decaf) and snack on a selection of fresh fruits. In between snippets of laughter is the rustle of paper as forms are read and waivers are signed. It is Thursday, February 8, and today is another session of the LAX Coastal Leadership Academy.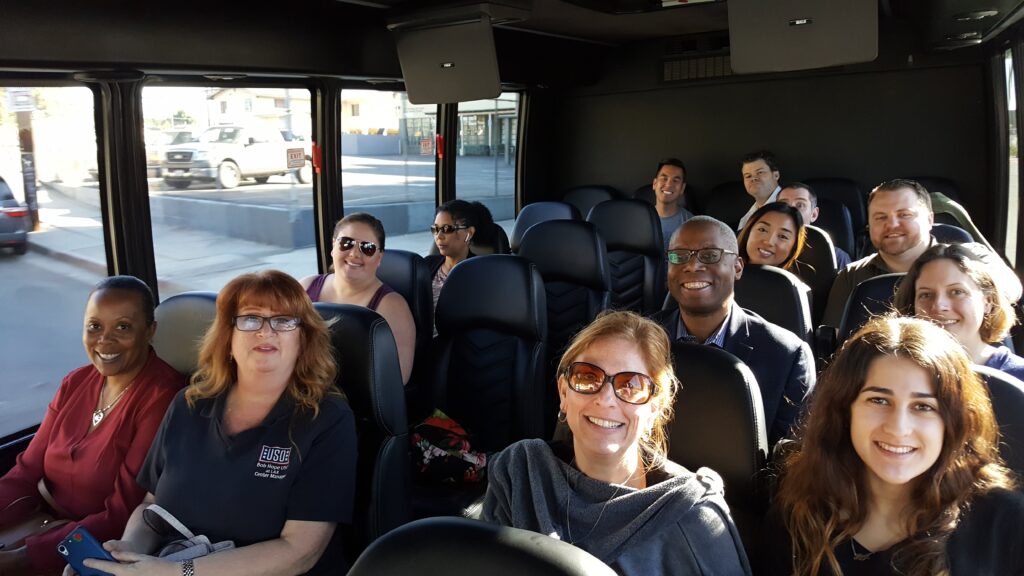 Our theme for the day is "Public Safety and Sanitation," and the waivers in question are our tickets to the day's first stop, the Twin Towers Correctional Facility. Through the support of our Marina del Rey Sheriff's contact, Lieutenant Johnson, and the helpful staff at the Twin Towers, our small group was granted a two-on-fourteen personal tour of the facility. Our Deputy Tour guides walked us through the concrete halls of their "office," where everything was a brisk 65 degrees and an oddly comforting mixture of clean and sterile, and taught us about the inner workings of our jail system. We were given tours of modules, a collection of 3 rooms that hold roughly 44 inmates each and was under constant monitoring by a group of officers, learned how colors were used to identify specific individuals suffering from suicidal tendencies, violent outburst, or mental illness, and were surprised to learn that Twin Towers Correctional Facility was now mostly us as mental health facility and was highly monitored by the Department of Health. From inmates known as Trustees (inmates that are granted working privileges after demonstrating good behavior) that can be seen walking around wearing green, to the educational opportunities provided to all who are interested (not limited to a high school diploma equivalency and 25 different certification courses), to the separation and classification of inmates based on their offence, we saw as much as we could—and asked as many questions as they could handle—in our seemingly brief two-hour visit.
When it was over, we took advantage of a little one-on-one time with our Deputies, getting to know who they were and the reasons behind why they were working at the Twin Towers. At their encouragement—"We are an open book, ask us anything!"—we learned that one was a family man with four kids, the other was dating an LAPD officer, and both were hoping to transfer to a gang unit in East LA in the near future. They looked at their time at Twin Towers as experience and research. They viewed close interaction with the inmates as a learning experience, hoping to gain insider information into how the gang world worked on the outside so that they would be better trained to address it. They were knowledgeable and passionate, and in a world where social media often paints law enforcement in a not-so-bright light, they were also entirely approachable. As one of them said, "The badge doesn't make me who I am or tells me how to act, my name does. I do what I do so that I am proud to carry my father's name."
We stepped out into the sunlight—phew!—and dined on the beach at El Segundo Beach Café. Conversation topics ranged from the contrast between what we saw at Twin Towers and how the jail system is portrayed in the media to our favorite places to volunteer and the Leadership Academy program as a whole. With each class focusing on a different aspect of the inner workings of the LAX Coastal community, participants are often introduced to impactful leaders and influential organizations they weren't familiar with before. Growing as a leader isn't always about enhancing your professional skills, it's also about growing your knowledge about the world around you and the community you live in. As a Chamber of Commerce, we are lucky to have had more than 60 years to build relationships within our region, and each year we are excited for the chance to share them with our Leadership Academy participants. From tours of City Hall to LAX to the Hyperion Treatment Plant—our next stop on today's journey—you see them all when you join the LAX Coastal Leadership Academy.
For those who are unfamiliar, the Hyperion Treatment Plant is a water reclamation plant that deals with LAX Coastal sewage (and beyond). Treating an average of 275 million gallons of water per day, the Hyperion is a necessary, valuable, and often underappreciated resource. It is also one of the most fascinating tours someone can take within our neighborhood.
Our tour started off with a one-on-many presentation by our amazing tour guide, Nancy, a woman who is such a bundle of energy and information that she borders on intimidating, but is also entirely likeable. She regales us with such facts as the plant's first opening in 1894, how the plant is currently producing 80% of its electricity usage on-site through steam and methane production, and that it was possible to "scrub" air to remove bad smells (through chemicals, bacteria, and environmental conditions). She took us on a tram ride through the plant grounds, pointing out the award-winning architecture where old pipes fuse almost seamlessly with new, brightly-painted buildings. From older beige buildings to newer orange facilities, to light blue pipes (fresh water) comingling with bright white pipes (air scrubber system), the Hyperion plant is both larger and more vibrant than one would expect of a company that deals with sewage. As we drove between the buildings, were felt as if we were part of a small city—complete with moving traffic, stop signs, and patrolled by LAPD, no less—rather than a treatment plant.
In between the ocean and hills of green, we toured the large pools where finely-strained water is separated from the last of its "scum" (technical term) and is deemed clean enough for local wildlife to land on its surface. We saw how some of their processes see extreme changes in temperature, leaving behind small pillars of ice even under the heat of the sun, and large empty pits where water could be diverted in case of an emergency, earning the team an extra 37 minutes (!) to handle the issue. We even saw their resident piece of public art, a three-dimensional diorama of abstract art made from recycled traffic signs representing the area.
The tram tour ended at the Sanitation Learning Center, where Nancy said adieu and multiple hands-on exhibits brought out the child in a room full of professionals. From a 3-on-3 recycling sorting game to a trash truck where you could pose as the driver, our class of leaders played and learned to their hearts content. Kirby signed an online pledge to save water—the binding contract of that agreement showing up in the form of a fish floating in the ocean bearing Kirby's name—while the others learned fascinating tidbits like the average Angeleno uses up to 106 gallons of water per day. The most important fact we learned was that all of our efforts really do make a difference. Fresh water truly is a finite resource, as hard as that is to believe, so every act of conservation—from low flush toilets to taking shorter showers—can help humanity in the long run. As Nancy says, "Mother Earth can filter the water if we give it to her, but it takes time. And desalinization is an expensive process, from what I've heard. Our best option is to work smarter with what we have. Use less fresh water and recycle the dirty water. Treat it, not necessarily so that it's potable, but so we can use it to irrigate crops and for other odd jobs. We don't have to dump it into the ocean like we have in the past because then it's gone. You can't bring it back."
In the end, maybe that's the Leadership Academy lesson for the day: to make smarter decisions with the choices we are given. No matter how black-and-white the world seems, we are always left with a choice to be a better person and to leave behind a better world. The future is up to you.
---
View photos from the 2017-18 Leadership Academy.